Ministering Together is a Christian ministry founded by Wayne & Liz Duley in 2017. Centered in Santiago de los Caballeros Dominican Republic, the Duleys are involved in various mission opportunties to share the love of Jesus with those around them. The Duleys are partners with La Casa Grande Centro De Misiones Internacional (https://www.casagrandedr.org/).
Please follow this website for the latest projects and ministry opportunities as well as updates and praise reports from the mission field.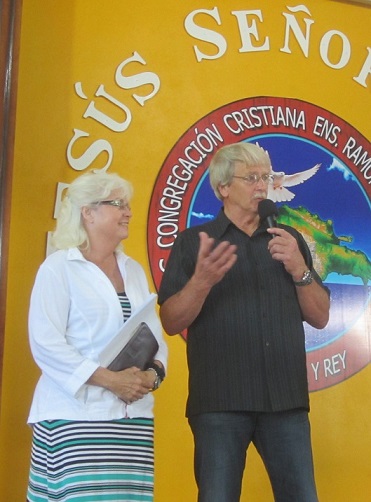 ---
Trusting God During Difficult Times
---
---
Ministries
Learn about all of our ongoing ministries, our ministry needs and our active and completed projects.
---
Latest News
Ministry Needs

I have been putting this category off till the end. Was not sure what to say. Of course we have needs, but to sit down and list them just does not seem right. We have always trusted GOD in meeting our needs as we take them to Him in prayer. […]

Ministry Overview

Together Ministries ( Liz & Wayne) has but one purpose and that is to Share the Gospel and the Love Of GOD through his SON JESUS and to show them the LOVE of JESUS through US. We serve and partner with Tim and Trena Johnson at LA CASA GRANDE CENTRAL […]

Blind Ministry Started 2019

We have registered the church with the Dominican Republic Government and need to meet with the Lawyer to complete final details. Also we are praying for another location due to some conditions not suitable for the disabled. Last update July 31, 2020
---
Recent Devotionals
Ministry Needs

I have been putting this category off till the end. Was not sure what to say. Of course we have needs, but to sit down and list them just does not seem right. We have always trusted GOD in meeting our needs as we take them to Him in prayer. We walk by faith trusting […]

Ministry Overview

Together Ministries ( Liz & Wayne) has but one purpose and that is to Share the Gospel and the Love Of GOD through his SON JESUS and to show them the LOVE of JESUS through US. We serve and partner with Tim and Trena Johnson at LA CASA GRANDE CENTRAL DE MISSIONS INTERNATIONAL. https://www.casagrandedr.org This […]

Blind Ministry Started 2019

We have registered the church with the Dominican Republic Government and need to meet with the Lawyer to complete final details. Also we are praying for another location due to some conditions not suitable for the disabled. Last update July 31, 2020